Nootropics are also called smart drugs or cognitive enhancers. They improve cognitive function, memory, creativity, and motivation!
The original conceptual idea for TAO Ultra Nootropic was to create a single tablet that can take a healthy individual and elevate their level of functioning without harmful drugs, chemicals, and side effects. The difficult part is making a healthy nootropic that is effective.
✓

 

8 HOURS OF VIVID CLARITY & OPTIMAL FLOW STATE


✓

 EXTREME PRODUCTIVITY & PEAK MENTAL ENERGY


✓

 

IDEAL FOR ENTREPRENEURS, STUDENTS, GAMERS, ATHLETES


THE SCIENCE

TeaCrine® works with the body's natural metabolic processes to deliver longer lasting energy, increase mental clarity and improve mood and motivation.It has a multi-pronged effect that is ideal for physique athletes and driven professionals who want to push harder. TeaCrine® initiates and supports metabolic and enzymatic processes that lead to better performance whether on the playing field or in the office.*
SUPPORTS HEALTHY METABOLIC ACTIVITY AND ENERGY PRODUCTION

DECREASES PHYSICAL DISCOMFORT ASSOCIATED WITH INTENSE EXERCISE

INCREASES CELLULAR PROTECTION THROUGH ANTIOXIDANT ACTIVITY

SUPPORTS A POSITIVE MOOD AND DECREASED FEELINGS OF STRESS AND IRRITABILITY

INCREASES MOTIVATION AND NEURAL DRIVE TO EXERCISE AND ACCOMPLISH TASKS

The innovative patent-protected and technology-driven fusion of caffeine and pTeroPure provides a novel next-generation functional caffeine alternative.
PURENERGY ® DELIVERS ALMOST 30% MORE CAFFEINE INTO THE BLOOD THAN ORDINARY CAFFEINE.

~43% CAFFEINE & ~57% PTEROPURE, A 99% PURE NATURE-IDENTICAL ALL-TRANS PTEROSTILBENE WITH SEVEN PATENTS ISSUED OR PENDING.

AT 6 HOURS, SUBJECTS TAKING PURENERGY® SHOWED SIGNIFICANTLY LESS FATIGUE AND GREATER CONCENTRATION, ALERTNESS, ENERGY AND FOCUS COMPARED TO BASELINE. ORDINARY CAFFEINE DID NOT.

THE POTENTIAL FOR A MORE MODERATED AND GRADUAL FINISH, MAY PREVENT THE "CRASH" EXPERIENCED WITH CAFFEINE PRODUCTS AND HAS SHOWN NO ADVERSE EVENTS.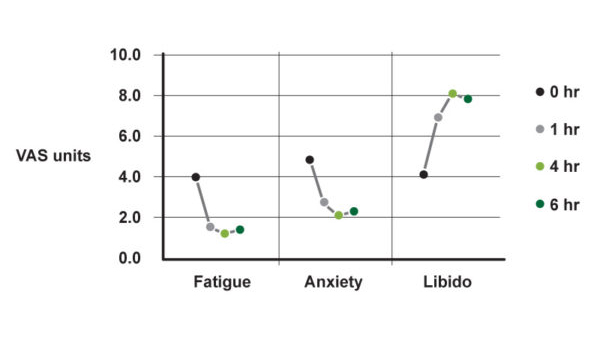 Effect Size of 200 mg dose of TC over course of 7-day repeated dose study relative to baseline on:
FATIGUE: -0.64 | ANXIETY: -0.59
LIBIDO: 0.71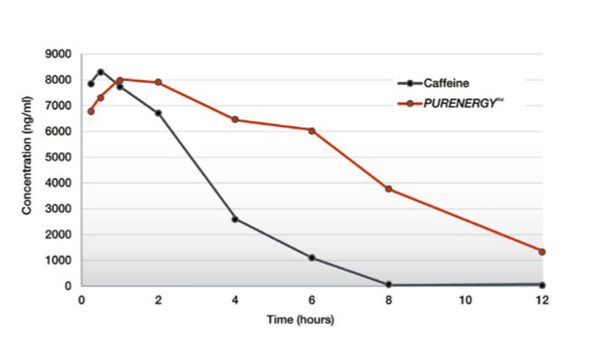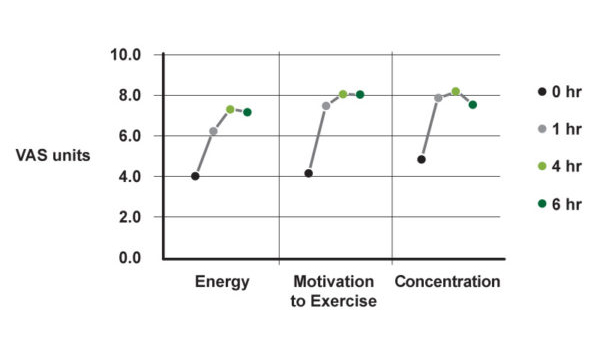 Effect Size of 200 mg dose of TC over course of 7-day repeated dose study relative to baseline on:
ENERGY: 0.63 | MOTIVATION TO EXERCISE: 0.58
CONCENTRATION: 0.60
TAO Ultra Nootropic (formerly known as The DaVinci), is a revolutionary state of the art masterpiece in human functional technology, and is unlike anything you have consumed in the past. What you are holding right now is a True Human Performance Enhancer, ideal for entrepreneurs, athletes, bio-hackers, and just about anyone looking to unlock their potential and rise above.
---
Even though it is the most advanced nootropic in the world, the good news is TAO Ultra is very simple to use. Just take 1 tablet in the morning or early in the day. The effect is not overbearing for most, as the concept of TAO is not like an over caffeinated stimulant or pre-workout product. TAO Ultra was designed to put you in a clear, creative zone of free flowing mental energy for up to 8 hours, so we also don't advise taking it too late in the day.